Kindergarten

by Aliki
Here are some more books written and illustrated by Aliki:
"Push Button"
"Quiet in the Garden"
"A Play's the Thing"
"Ah, Music"
"Wild and Woolly Mammoths"
2nd Grade

by Steve Potts
Did you know bison are good swimmers? Find out more about the American Bison at http://www.bronxzoo.com/animals-and-exhibits/animals/mammals/bison.aspx
1st Grade

by Patricia Reilly Giff
"Flying Feet" is the third book in the "Zigzag Kids" series. Here are some more titles from the series.
"The Number-One Kid"
"The Big Whopper"
"Star Time"
"Bears Beware"
"Super Surprise"
"Sky High"
"Zigzag Zoom"
3rd Grade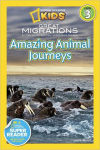 by Laura F. Marsh
Visit the National Geographic Kids website, http://kids.nationalgeographic.com/kids/, for all things nature—games, videos, jokes, news, photos and more.